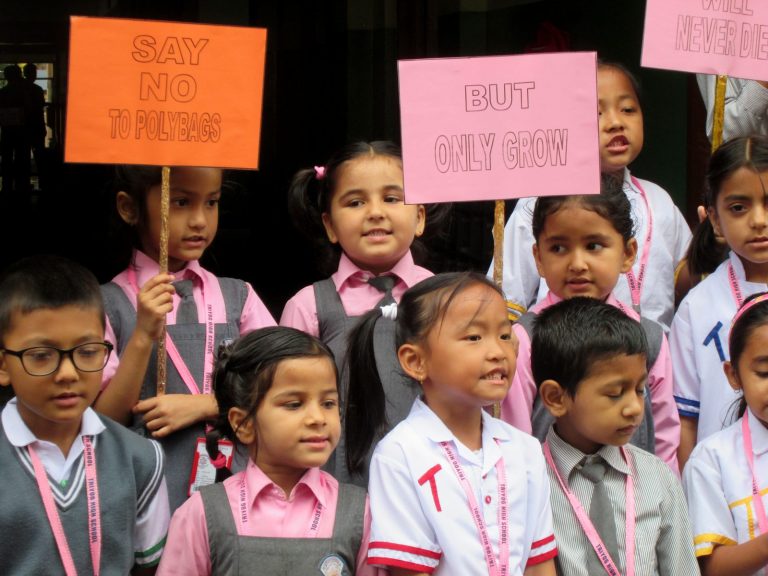 March 21, 2022
The students and teachers of Primary block celebrated World Environment Day by performing various programs.
It all started with some performances in the morning assembly – Speech on 'Environment' by the student of Grade III and a song performance titled 'Stop Pollution' by the selected children of Grade II and III. Related banners were displayed along with some props all showing the causes, effects, and measures to beat Air Pollution. Sharing and discussion on the topic Air Pollution were carried out in the classrooms. The students colored the badges with the World Environment Day theme which they later wore on their school uniform.
Then, all the students and teachers from Grade KG to III gathered in the School Hall where three activities were performed. A PowerPoint presentation and short video was showcased on causes, effects and solutions of Air Pollution; Focusing on planting trees, a demonstration was carried out by teachers, showing how to plant a sapling. Later, a student of Grade III provided some information about taking care of plants at home. The students were asked to bring a tree sapling each to school. The demonstration and information were provided so that they can plant the sapling they brought, at home. The target for these activities was to plant about 300 plants on the day and take a step toward a greener Kathmandu.
Indoor plants were planted inside the classrooms by the class teachers as reinforcement of the Hall activity. Later, a Craft Competition was held with the theme 'Best out of Waste' in each class, summarizing the World Environment Day.